MARK MARABELLA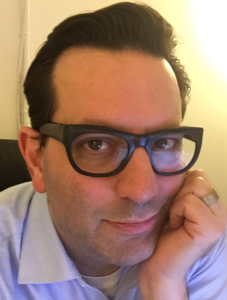 MARK MARABELLA is an Emmy® nominated executive producer and founder of Marabella Productions. He has 20 years of experience developing, writing, producing, or directing more than 200 hours of sit-coms, live-to-tape concerts, talk shows, documentary specials and non-fiction series for ID, Discovery, History, A&E, VH1, National Geographic, MSNBC, and PBS. IN 2009, Mark also helped launch heritageradionetwork.com, an on-line talk radio network composed of more than a dozen shows. While there, he co-hosted the Q-Report. Mark is also a member of the Writers Guild and a long-time active member of the Producers Guild of America serving as National Delegate for the Producers Council, Vice Chairman in NYC, as well as Chairman of its Documentary Committee in NYC since 2008.
Prior to founding Marabella Productions, Mark was the show-runner and writer of 60 hours of The Discovery Channel's top-rated prime-time forensics procedural series THE FBI FILES for three and half seasons. Through his storytelling, the award-winning series became number one on Discovery two years running, remaining among Discovery's top-rated shows of all time, and ultimately anchoring the launch of Discovery's INVESTIGATION DISCOVERY. Based on the series' success, Mark was then tapped to co-develop and launch production on CRITICAL RESCUE, a prime-time Discovery Channel series featuring stories of advanced rescue teams and emergency medicine premiering in the spring of 2003.
Originally from Buffalo, New York, Mark began his television career two decades earlier at VH1 in New York City working on comedies, talk shows, and music documentaries many of which were nominated for Cable Ace Awards. He went on to become Director of Production and Development for the award winning, independent television and documentary company Globalvision, where he supervised many investigative human rights programs for PBS, the last titled GLOBALIZATION AND HUMAN RIGHTS hosted by award winning journalist Charlayne Hunter-Gault. The one-hour documentary won top honors at the World Film Fest in Houston. His work has been broadcast internationally in over 100 countries. Mark has also written for numerous independent newspapers and magazines, and worked closely with top literary and talent agents in New York City. He is married and currently resides in Greenwich Village with his wife and daughter.